Welcome
Being Cool in Middle School
Being "cool" can mean different things to different people. So, the best way to be considered cool in school is to be the best version of yourself — the most honest, thoughtful, open-minded and open-hearted.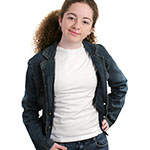 How you look and what you wear doesn't matter. Of course, you want to keep your appearance clean and fresh and honor the school dress code. But, as corny as it may sound, it's what's inside that's important. And shining your true self out to the world, just as you are, is the most courageous, coolest thing you can do.
Be a friend. Keep in mind that people are more alike than they are different. Many of your thoughts, fears and wishes are shared by other kids in your school. Everyone wants to be liked and everyone is likeable. Sometimes you just have to try a little harder to knock down the walls that some kids put up to protect themselves from being hurt — and maybe break through your own barriers as well.
Be a leader. If you think there's something in your school that could be improved in some way, step up. It's likely that others feel the same way as you. So, take the initiative, voice your opinion and talk to other students and maybe even teachers and school administrators about it — together you can come up with a plan of action. Be sure to listen to others and when someone shares something with the rest of the group, tell them how much you appreciate their contributions. Keep in mind that even if you're a little shy, when you're acting from your heart, you'll find the confidence you need to lead. And that's really cool!