Welcome
Are You Ready for Overnight Summer Camp?
Here's what you can do to prepare for overnight summer camp this year.
What do you think about making new friends and having a sleep over that lasts a whole week? Do you like kayaking, archery, arts and crafts, s'mores, and games like capture the flag?
Then you might be ready for an overnight summer camp!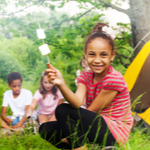 Sleep-away camps can be three nights or four weeks long, it all depends on the camp and the camper! Most camps involve a mixture of outdoor and indoor activities, although there are also camps that focus on nature and natural sciences, sports like horseback riding, or other hobbies. If you think you want to try an overnight camp this summer, here are some things you can do to prepare.
Research different camps with your parents. Read about them online or in pamphlets. Ask your friends which camps they've gone to and liked. Sometimes you can even visit a camp with your parents and take a tour. Find a camp that excites you!

Practice staying away from home for a few nights. Maybe you can try a camp that only lasts for a few nights before you try a week-long away camp. See if you can stay with cousins, other family members, or a friend for a few nights.

Bring something to camp from home that will make you smile when you miss your family. Everyone at camp gets a little homesick. It's normal. It can help to have a favorite picture of your family (and your pet, too!) at camp or a favorite toy or book to read.

Pack envelopes with your address and a stamp already on them. That way they're ready for you to write letters to your family about all the fun you're having and the new friends you're making.

Don't forget to bring some spending money to buy a t-shirt or other souvenir from the camp store—or candy bars to share with your new friends.
Lots of kids of all ages make some of their best summer memories away at camp. Maybe this year you can, too!